Feburary 2, 2022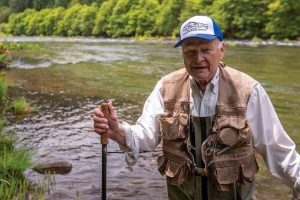 Frank Alvin Moore always gave 125% in all his endeavors, but he didn't expect others to meet that standard. His determination and grit made you want to give a 100% plus without saying a word. Sometimes Frank would give you a steely look or pronounced silence during a conversation. It always made me reflect, evaluate, and maybe make a change or shout a little louder.
In the summer of 2020, I was over at Frank and Jeanne's on a hot summers evening. We were sitting by the pond talking about the history of the River, steelhead fishing stories, and steelhead history on the North Umpqua River. Jeanne correcting Frank and Frank correcting Jeanne as they always did. They got me laughing so hard I almost fell out of my chair into the pond.  That would've been a good story if I'd gone in.  Later that summer, Frank, Jeanne, Kathy (my wife) and I lost our homes to the Archie Creek Fire.
Frank never gave out the names of fishing runs, he would say to me "you catch a fish there, come back and I'll tell you." Kathy and I explored more runs on the North Umpqua than ever imaginable, just trying to catch a fish so Frank would tell us the name of the run. We were doing intense fishing research with direction from Frank.
Frank loved to sing. I never got to hear him sing, but he took singing lessons at one time. That's how he met Jeanne.
Keep your ears open on the river and you might hear….
I will miss you so much Frank. I feel privileged to have received many bone crushing bear hugs and handshakes over the years.
Tight lines Frank.
Tim Goforth