The North Umpqua River, located near the town of Roseburg in southern Oregon, is one of the most revered steelhead streams in North America. For several generations now, loyal believers have tested their skills on this most challenging of streams. The stream flows through basalt bedrock, which provides unequaled structure and beauty in an unparalleled setting.
From Rock Creek, near the town of Glide, upstream to the Soda Springs dam is a stretch of over 30 river miles, designated as fly fishing only, that is as legendary as any stretch of water in the world. Everything about fishing the North Umpqua is challenging. The wading can be treacherous and deep, the casting long, and the fish temperamental.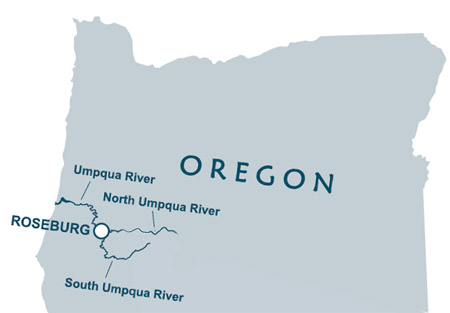 Fishing Pools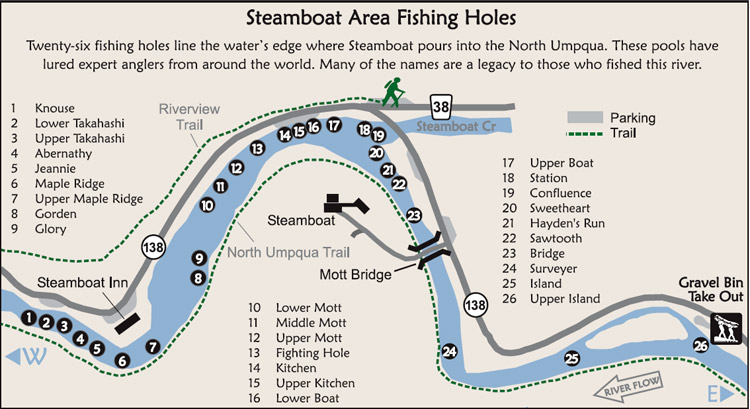 Fishing the North Umpqua is at once both ultimately challenging and therapeutically simple.
During the friendly summer months, one needs only a pair of cleats, a 10-foot rod for an 8- or 9-weight floating line, a 10-foot leader and a couple of flies. During the summer months, the down-and-across presentation with a wet fly or a waking fly is the preferred tactic.
In the winter months, substitute a sink tip or 30-foot sinking, shooting head for the floating line and keep an eye on the river levels.
Looking for a place to stay? The Steamboat Inn is perched on a bluff with a commanding view of the North Umpqua River. It features streamside cabins, hideaway cottages, river suites, campwater houses and a fine dining restaurant. Go to their web site.
Listed in order as you work downstream
The North Umpqua River